Daddy's Turn
by Alicia
(Newark, DE )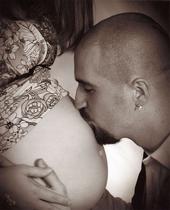 Daddy's Little Man
With the mother and father holding hands at the mother's hips, have a close up taken of dad kissing the unborn baby. I like the way our picture is just of my husband and his son...


It makes it a special keepsake meant for just the two of them (which can be hard to come by since mommy gets all of the special baby time to herself during pregnancy).


It is also nice to add the mother's hand over the father's while he kisses the belly as a subtle way to keep the subject centered around father and son/daughter without completely excluding mom from the moment.


Page Last Modified by Catherine Beier, MS, CBE