Got Belly Pics? Pregnancy Portrait Ideas ~
Share your pregnancy portrait ideas to help other mothers preserve the magic of their pregnancies, or to brag about your own fabulous photos!
Don't miss out on a golden opportunity to take belly pictures to show your children as they grow or to reminisce about your pregnancies. Pregnancy is not a time in your life you can recapture. You'll never have the chance to take maternity portraits again.
38 Weeks Pregnant

"

A black backdrop is always a good idea for a classic pregnant belly silhouette


"

Nude Pregnancy Profile

"

Just three days before the birth of her daughter... a 24 year old's pregnancy in profile


"

Artistic Pregnancy Picture

"

Experiment with different body positions. This is one of my faves - it's very artsy, I think.


"

Pregnancy Picture with Draping

"

Draping something sheer over your belly is always flattering with pregnant pictures.


"

Loving My Pregnant Belly

"

Nobody knows how many times you will experience pregnancy, so I say, love your pregnant body.


"

Crest of Light

"

Put a bright pinpoint of light behind her belly & turn off other lights. Using low or no flash, take the picture


"

Pregnancy Picture

"

This pregnancy picture wearing gauzy material was shot near a window in my ninth month.


"

10 Months of Joy

"

I'm shooting a portrait in the same pose every week to create a collage of the months lined up


"

Baby Lily

"

Hold your baby's birth month flower across your arm while lying on your side


"

Pregnant Belly with Gauze

"

We hung a sheet in the garage for our first pregnancy shot. We used a fan to get the gauze to "blow"


"

Pregnancy Oil Painting

"

Take a pregnant picture of yourself and edit it to make it look like an oil painting


"

Nude Pregnancy Portrait

"

I lay slightly on my side cupping my breast with my hands and used the timer to capture the picture


"

Pregnancy Shadow Effect

"

Find a white or blank wall and place a lamp behind you. Set your camera on low speed with the flash off


"

Shadow Belly

"

Stand in front of a bare wall with light behind you. Set the camera on a slower speed and hold very still!


"
Browse our additional selections or upload your own images and ideas. You may also rate or comment on any of the images as well.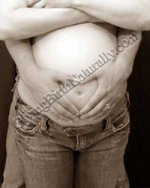 What are Your Pregnancy Portrait Ideas?
Pregnancy truly is an amazing time. Feeling that little life kick inside you is *priceless*. What's your best pregnancy portrait idea to preserve the memory of this special time in your life?
Other Visitors' Pregnancy Portrait Ideas
Click on the links below to see the pregnancy portrait ideas of other mothers.

Page Last Modified by Catherine Beier, MS, CBE