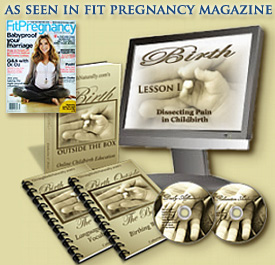 OUR MISSION
To provide
online childbirth classes

that actively teach the skills and techniques needed to ensure a comfortable, safe birth experience and smooth recovery,

without the hassle or expense

of traditional childbirth classes.

Natural childbirth education classes also outline the body's innate design to give birth and respect the emotional needs of laboring women so mothers receive peace-of-mind by gaining the knowledge and skills needed to

relieve their fears

so they can enjoy their pregnancies and actually

look forward

to giving birth.
See What Past Students
are Saying

"Our Belated Christmas Present"
I had to write you to tell you how thankful I am that I took the 12 week class. I had my baby on the 26th but sadly she was breech and was unable to have our planned home birth. However, I did labor to full dilation at home before being transported to the hospital. When the midwife arrived she thought I was only 7 centimeters or so based on how I was acting. She thought that there was no way a first time mother would be so calm and be in full active labor. I took to heart everything I read in your class and I can't tell you how much it helped. My midwife even sent me an email afterward to tell me that I was amazing through the whole process and she could not believe how prepared I seemed during the labor. Also, because I had to have a C-section I was unable to be there when they tried to administer the Vitamin K and the Hep B shot but because I kept my husband informed he was able to refuse. We did get a lecture from the doctors but I know that we made the best decision because we were so informed. I can't thank you enough and I am telling everyone about this class. I don't think I would have been able to handle the labor without it.
Thanks Again,
Kerry Schamel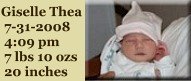 "I really think your book & information helped me a lot. I felt confident about what was going to happen & not scared. It did hurt there at the end, but the fact that I was able to do the whole thing without any drugs or epidural made me confident that I had done everything I could to give her the best start. I would recommend your program to anyone that wants to have a baby. I don't know if I would have had the confidence to do it otherwise."



"A Personal Answer to the Fear in My Heart"

"I've been putting off having a baby with my husband for years, thinking I can get away with it for a while because I'm "only 33"...but the truth is, I've been completely terrified of childbirth and that's what's been holding me back.

After completing your natural child birth education classes, my fear of childbirth is gone. I know exactly what I need to do and my anxiety about giving birth has melted away. I can't wait to meet my baby and add my birth story to your collection."

Sarah M.


What Makes This Program so Powerful?

Birth Outside the Box™:
Online Childbirth Classes
are not typical hospital
childbirth classes. Their 3 Tiered approach, hands-on materials, and flexible scheduling unite to actively teach you the
what, when, where, why, and how
of childbirth to make your birthing go as smoothly as possible, from the choices you make during your pregnancy to those during birth and recovery.
Plus, you'll have unlimited access to
StudyWomb™
, the
Online Natural Childbirth Education Classroom
. From audio and written relaxation scripts, birth journals, and free printables to nutritional guides, sample birth plans, a guide to checking your own cervix and other tips and techniques,
StudyWomb™
provides a full suite of tools to help you prepare for your ideal birth experience. What's more, you'll also have access to a
private forum
to contact a childbirth educator and get your questions answered.
An Innovative 3 Tiered-Approach

Core Curriculum


Birthing Workbook



Language of Childbirth
Vocabulary Pack

Tier I - The Program Components
A. THE CORE CURRICULUM
From prenatal preparation to handling complications, the 14 detailed lessons in the Core Curriculum form the foundation of the program:
Dissecting Pain in Childbirth
How Perception Affects Childbirth
Breaking the Chain: Changing Childbirth Perceptions
Removing Barriers to Birthing
Intervention Analysis
Interventions for the Baby
Prevention & Management of Discomfort

Birth Positions
Natural Comfort Measures
Stages of Birthing & Management Strategies
For the Birth Companion
Signs of Birthing
Due Dates, Postdates & Induction
Meconium Happens: Handling Complications in Birthing

The Course Syllabus (opens a new window) provides complete lesson descriptions.
Written in a one-to-one, conversational tone, each lesson feels like having a heart-to-heart conversation with a friend in the comfort of your own home, not a stuffy lecture in a sterile hospital full of strangers.
The natural child birth education program requires no advanced computer knowledge or special technology. Each lesson is crafted as a Adobe Acrobat document. Adobe Reader, a free download, is required to view and print each lesson. All you need is an email account. Just point and click to start each lesson.

Online childbirth classes eliminate the woes of struggling to remember hours and hours of lecture. You'll have detailed reference materials to review and revisit during your entire pregnancy so you never have to worry about forgetting a single detail.
You'll also be able to prepare simultaneously with your chosen birth companion(s) - any time, anywhere. With a computer and an Internet connection, they'll be able to prepare right along with you. Lesson XI is devoted to teaching your birth companion(s) how to support you during birth, so that you can both be at ease once labor unfolds.
B. YOUR BIRTHING WORKBOOK

The Birthing Workbook is an essential element to mastering your natural child birth education. It provides assignments and student reflections for each lesson. By the end of the program, it will contain the wisdom you've gain along your pregnancy and childbirth preparation journey. It will serve as your "Childbirth Bible" for years to come. It will free you to focus on what you're learning rather than struggling to remember every detail. You'll also avoid information overload by working at your own pace so you can focus on applying all the strategies and techniques you learn.


C. THE LANGUAGE OF CHILDBIRTH VOCABULARY PACK
The Language of Childbirth Vocabulary Pack lets you crack the code of natural child birth education tech speak. From AROM to BPP, you'll no longer have to wade your way through technical terms and wonder what those abbreviations mean.


You'll be able to speak a common language with your care providers - should any technical terms arise, you'll understand what's being said well in advance of the birth so you don't feel scared or out of control during your pregnancy or once labor arrives.

Tier II - Flexible Scheduling
A. PICK AN OPTION, ANY OPTION

Start your natural child birth education any time, anywhere without having to discuss your pregnancy and birth with a bunch of strangers. The schedule will adapt to fit your personal needs.

Choose the option that works best for your individual needs so you don't have to lose your entire weekend traveling to a class or spend hours listening to lecture after a long day's work, struggling just to stay awake.


12 Week Course
7 Week Course
Self-Paced Course

Links and passwords to each lesson are sent via email for 12 consecutive weeks.


The Birthing Workbook and Language of Childbirth Vocabulary Pack are included for download with the first lesson.


This course offers smaller segments of material at a time so you can fully grasp the content before moving on to the next lesson.


This option is best-suited for first-time moms and to those earlier in pregnancy.




Links and passwords for each lesson are emailed weekly for 7 consecutive weeks. 2-3 lessons are covered each week.


The Birthing Workbook and Language of Childbirth Vocabulary Pack downloads are included with the first installment.


This options requires more time and study to complete in a shorter time frame.


It is an accelerated option for those with less time in their pregnancy to complete the natural child birth education curriculum.




Includes download access to the entire natural child birth education curriculum for self-paced home study.


The Birthing Workbook and Language of Childbirth Vocabulary Pack are included at the end of the complete course file within the download folder.


This course is designed for consecutive completion. It is not recommended to skip between lessons.


This option is best suited as a refresher course or for those with a good foundation of childbirth principles.
Prefer a Print Edition?



Get the core program in print form, including the Core Curriculum, Birthing Workbook and Language of Childbirth Vocabulary Pack, all bound into 1 complete Natural Child Birth Education Manual -

no need to spend time or money on printing and ink.



Plus, get

a complimentary copy

of the complete curriculum in digital format so you can start preparing for childbirth today. All additional course materials will also be accessbile online - a thank-you note automatically sent after enrollment provides access instructions.


Tier III - 24/7 Access to StudyWomb™
~
Where Help is Just a Click Away~

StudyWomb™
, the
Online Natural Child Birth Education Classroom
, is available 24 hours a day, 7 days a week for unlimited access to its unique services and supports. Inside you'll find a full suite of tools, including:
Quizzes for Each Course Lesson
Sample Birth Plans
Birth Journals
Relaxation Audios
Daily Nutritional Guides
Inspirational Desktop Wallpaper
Meal Tracking Forms
Written Relaxation Scripts
and Even a Private Consultation Support Center
New resources will be added frequently, including PowerPoint presentations, instructional videos, audio lessons and more, all designed to help you prepare for your upcoming birth experience.
Should you have questions or concerns about any of the program materials or your individual situation,
help is just a click away
. Just login via your private password at
StudyWomb™
, submit a support ticket, and a childbirth educator will respond within 2 business days -
no need to wait until your next class.
Where Do I Register?
Tuition for the complete
Online Natural Child Birth Education
curriculum including:
The Core Curriculum

Your Birthing Workbook

The Language of Childbirth Vocabulary Pack

24/7 Access to StudyWomb™

One-Click Email Support

is only $50 USD
, with all transactions processed securely through
PayPal
. That's hundreds of dollars less than traditional natural child birth education classes so you can save for unexpected expenses when the baby comes. You won't have to make financial sacrifices while facing the rising cost of living and adding a baby to your family.
You'll also shave thousands of dollars off a hospital bill by avoiding unnecessary interventions - the entire cost of the program will be covered in savings alone!
After you complete the online childbirth classes, you will listen to other women's horror stories knowing that your choices prevented you from walking in their footsteps. You'll think back on your child's birth, remembering how calm, relaxed and in control you felt.
Best of all, you will have a wonderful empowering story
to share with your child about the day they were born.
And after you've given birth easily, safely and comfortably, you'll be the envy of every mother you know -
they'll want to know your secrets
- and you'll be able to share your natural child birth education with them, paying forward all you've learned to help other women around you have the comfortable, safe birth experiences they too, deserve to have.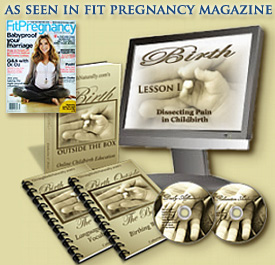 12 Week Course

7 Week Course

Self-Paced Course

Print Edition

Giving Birth Naturally
:
Online Childbirth Classes