Preparing for breast Feeding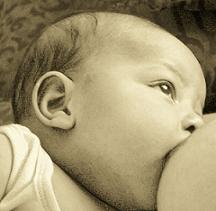 Many first-time mothers are apprehensive of breast feeding. As pregnancy progresses, women's bodies are already preparing for breast feeding. Nursing is what "the ladies" were designed to do. Bust size increases as the milk ducts and milk-producing cells develop, and more blood goes to the breasts than before. However, breast size has no correlation with the ability to nurse.
Some common questions, nursing myths and concerns are addressed below:
How to prepare for breastfeeding?
Read as much as you can. Talk to your care provider about your decision to breastfeed. Go to a La Leche League International chapter, and take a breastfeeding class (offered by most hospitals) or contact a local lactation consultant at an area hospital. The more you know about the benefits of nursing, the less apprehensive you will be.
Do I need to toughen my nipples?
All the old wives' tales about toughening your nipples are just that, old wives' tales. Wash the areola and nipples with plain warm water rinses to avoid drying out the skin. If you are plagued with dry skin, use a small amount of pure lanolin to moisturize them.
If you have flat nipples or inverted nipples, you should still be able to breastfeed successfully. In these cases, it is beneficial to gently roll each nipple between your thumb and forefinger to loosen the adhesions that are pulling the nipple inward. If your case is particularly severe, then you can use nipple shields in the beginning of nursing until the nipple protrudes outward. If you are truly concerned, ask your care provider or lactation consultant.
You may also use a manual or electric breast pump for a few minutes daily to pull out the nipple. A breast pump is an essential item if you wish to have others feed the baby or will be returning to work.
What do I need to buy?
Although you may want to purchase a couple of nursing bras before the baby comes, as your milk comes in you will most likely need a larger size. It is advisable to purchase at least one before the birth because you will be hard-pressed to go shopping soon after the baby is born. You may want a few breast feeding clothes. Nursing tops have convenient snaps or flaps that allow easy, discrete access. At the very least, you will want a loose-fitting shirt.
Invest in a supply of breast pads. These are a necessity in the early days. As the weeks progress, you will experience less and less leaking. However, in the early days you may awake drenched, even with breast pads in place. You can purchase either disposable pads or washable pads. Disposable pads may be more convenient in the beginning with less time for extra laundry. Once the leakage slows, washable pads can become a cost-saving option.
Page Last Modified by Catherine Beier, MS, CBE